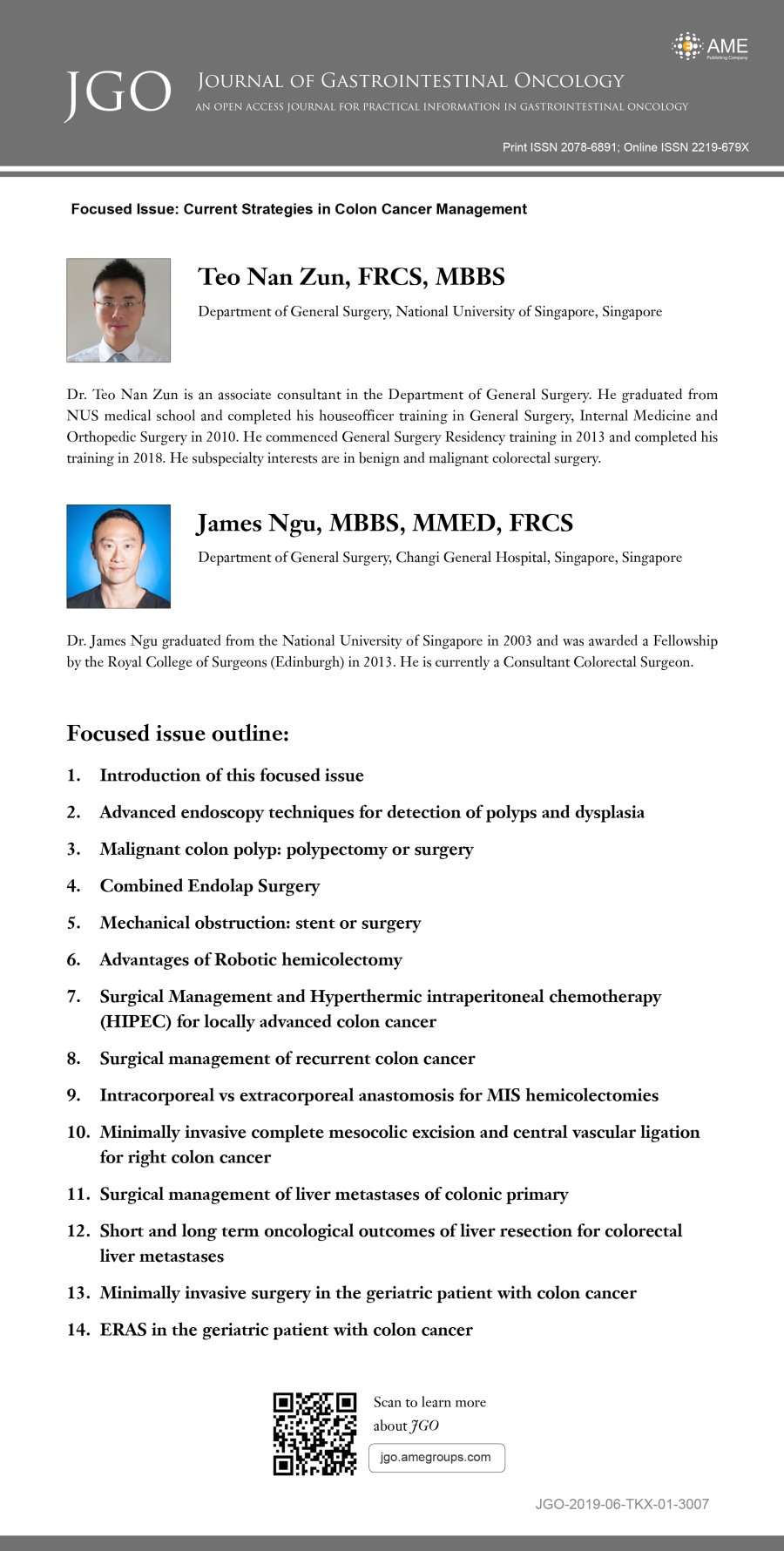 This focused issue on "Current Strategies in Colon Cancer Management" is edited by Dr. Teo Nan Zun, ​FRCS, from Department of General Surgery, National University of Singapore, Singapore; and Dr. James Ngu, from Department of General Surgery, Changi General Hospital, Singapore, Singapore
Dr. Teo Nan Zun is an associate consultant in the Department of General Surgery. He graduated from NUS medical school and completed his houseofficer training in General Surgery, Internal Medicine and Orthopedic Surgery in 2010. He commenced General Surgery Residency training in 2013 and completed his training in 2018. He subspecialty interests are in benign and malignant colorectal surgery.
Dr. James Ngu graduated from the National University of Singapore in 2003 and was awarded a Fellowship by the Royal College of Surgeons (Edinburgh) in 2013. He is currently a Consultant Colorectal Surgeon.
Focused issue outline:
Introduction of this focused issue
Advanced endoscopy techniques for detection of polyps and dysplasia
Malignant colon polyp: polypectomy or surgery
Combined Endolap Surgery
Mechanical obstruction: stent or surgery
Advantages of Robotic hemicolectomy
Surgical Management and Hyperthermic intraperitoneal chemotherapy (HIPEC) for locally advanced colon cancer
Surgical management of recurrent colon cancer
Intracorporeal vs extracorporeal anastomosis for MIS hemicolectomies
Minimally invasive complete mesocolic excision and central vascular ligation for right colon cancer
Surgical management of liver metastases of colonic primary
Short and long term oncological outcomes of liver resection for colorectal liver metastases
Minimally invasive surgery in the geriatric patient with colon cancer
ERAS in the geriatric patient with colon cancer