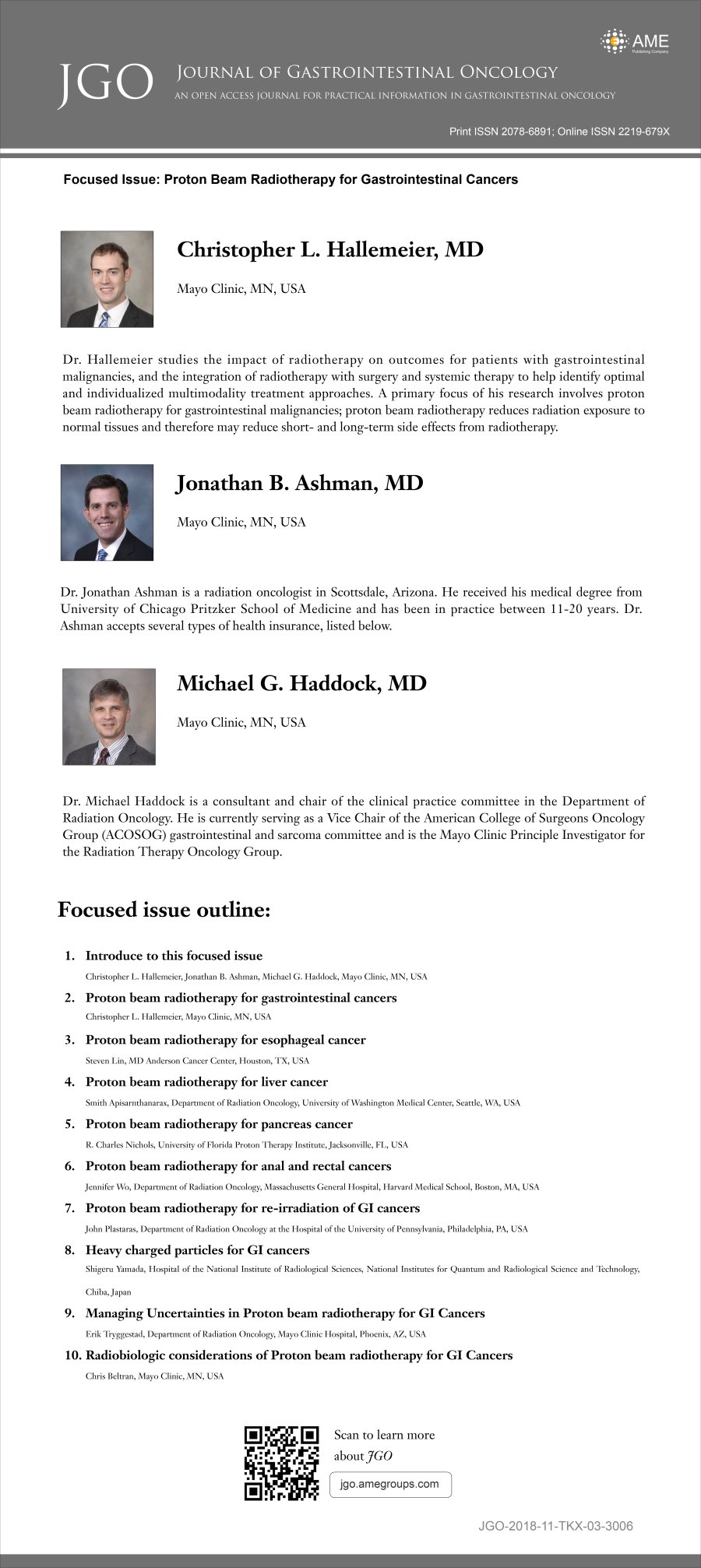 This focused issue on "Proton Beam Radiotherapy for Gastrointestinal Cancers" is edited by Dr. Christopher L. Hallemeier, Dr. Jonathan B. Ashman, and Dr. Michael G. Haddock, from Mayo Clinic, MN, USA.

Dr. Christopher L. Hallemeier studies the impact of radiotherapy on outcomes for patients with gastrointestinal malignancies, and the integration of radiotherapy with surgery and systemic therapy to help identify optimal and individualized multimodality treatment approaches. A primary focus of his research involves proton beam radiotherapy for gastrointestinal malignancies; proton beam radiotherapy reduces radiation exposure to normal tissues and therefore may reduce short- and long-term side effects from radiotherapy.
Dr. Jonathan Ashman is a radiation oncologist in Scottsdale, Arizona. He received his medical degree from University of Chicago Pritzker School of Medicine and has been in practice between 11-20 years.

Dr. Michael Haddock is a consultant and chair of the clinical practice committee in the Department of Radiation Oncology. He is currently serving as a Vice Chair of the American College of Surgeons Oncology Group (ACOSOG) gastrointestinal and sarcoma committee and is the Mayo Clinic Principle Investigator for the Radiation Therapy Oncology Group.

Focused issue outline:
Introduce to this focused issue
Christopher L. Hallemeier, Jonathan B. Ashman, Michael G. Haddock, Mayo Clinic, MN, USA
Proton beam radiotherapy for gastrointestinal cancers
Christopher L. Hallemeier, Mayo Clinic, MN, USA
Proton beam radiotherapy for esophageal cancer
Steven Lin, MD Anderson Cancer Center, Houston, TX, USA
Proton beam radiotherapy for liver cancer
Smith Apisarnthanarax, Department of Radiation Oncology, University of Washington Medical Center, Seattle, WA, USA
Proton beam radiotherapy for pancreas cancer
R. Charles Nichols, University of Florida Proton Therapy Institute, Jacksonville, FL, USA
Proton beam radiotherapy for anal and rectal cancers
Jennifer Wo, Department of Radiation Oncology, Massachusetts General Hospital, Harvard Medical School, Boston, MA, USA
Proton beam radiotherapy for re-irradiation of GI cancers
John Plastaras, Department of Radiation Oncology at the Hospital of the University of Pennsylvania, Philadelphia, PA, USA
Heavy charged particles for GI cancers
Shigeru Yamada, Hospital of the National Institute of Radiological Sciences, National Institutes for Quantum and Radiological Science and Technology, Chiba, Japan
Managing uncertainties in proton beam radiotherapy for GI cancers
Erik Tryggestad, Department of Radiation Oncology, Mayo Clinic Hospital, Phoenix, AZ, USA
Radiobiologic considerations of proton beam radiotherapy for GI cancers
Chris Beltran, Mayo Clinic, MN, USA