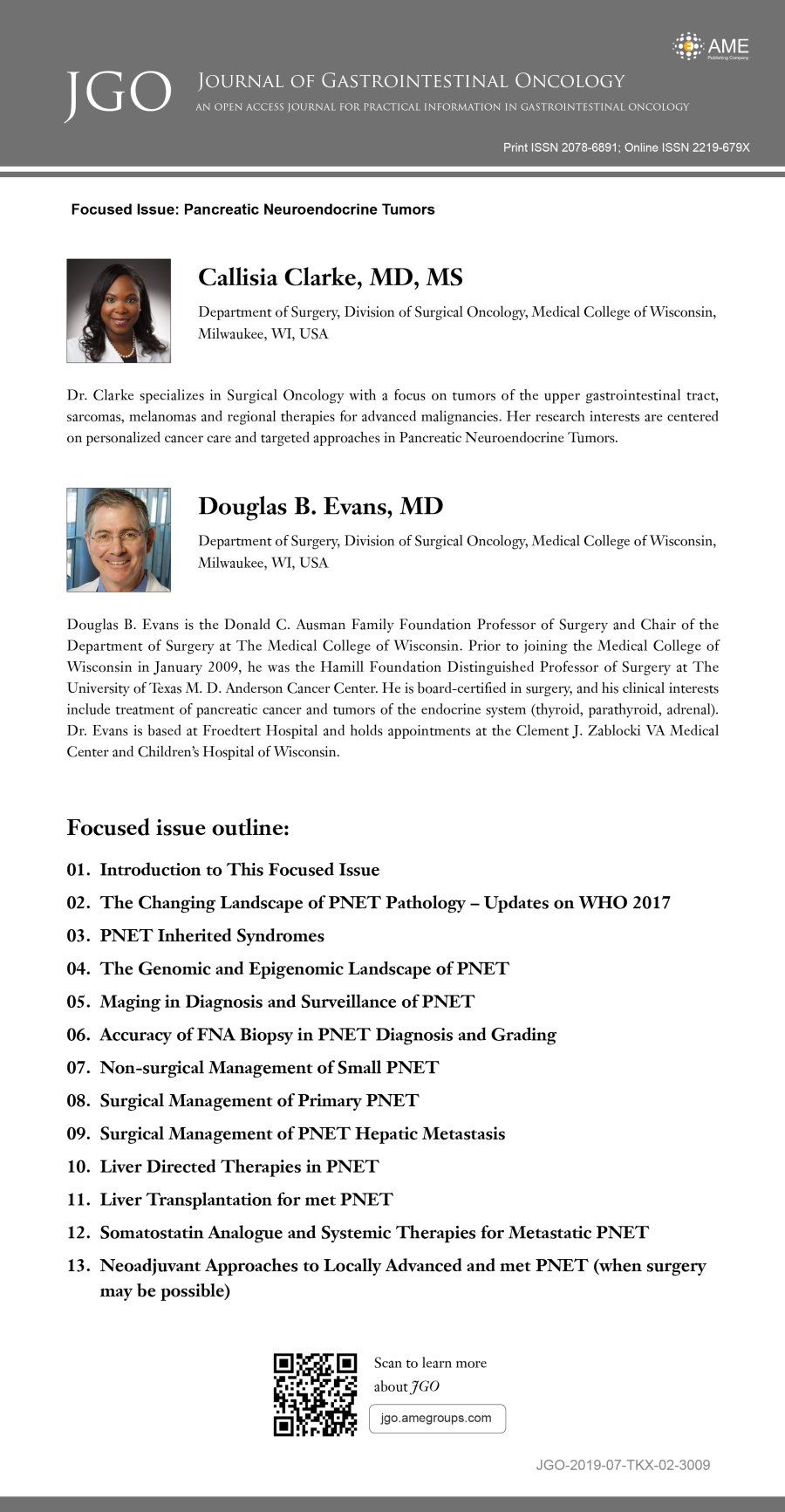 This focused issue on "Pancreatic Neuroendocrine Tumors" is edited by Dr. Callisia Clarke and Dr. Douglas B. Evans, from Department of Surgery, Division of Surgical Oncology, Medical College of Wisconsin, Milwaukee, WI, USA.

Dr. Callisia Clarke specializes in Surgical Oncology with a focus on tumors of the upper gastrointestinal tract, sarcomas, melanomas and regional therapies for advanced malignancies. Her research interests are centered on personalized cancer care and targeted approaches in Pancreatic Neuroendocrine Tumors.
Dr. Douglas B. Evans is the Donald C. Ausman Family Foundation Professor of Surgery and Chair of the Department of Surgery at The Medical College of Wisconsin. Prior to joining the Medical College of Wisconsin in January 2009, he was the Hamill Foundation Distinguished Professor of Surgery at The University of Texas M. D. Anderson Cancer Center. He is board-certified in surgery, and his clinical interests include treatment of pancreatic cancer and tumors of the endocrine system (thyroid, parathyroid, adrenal). Dr. Evans is based at Froedtert Hospital and holds appointments at the Clement J. Zablocki VA Medical Center and Children's Hospital of Wisconsin.

Focused issue outline:
Introduction to This Focused Issue

The Changing Landscape of PNET Pathology – Updates on WHO 2017

PNET Inherited Syndromes

The Genomic and Epigenomic Landscape of PNET

Maging in Diagnosis and Surveillance of PNET

Accuracy of FNA Biopsy in PNET Diagnosis and Grading

Non-surgical Management of Small PNET

Surgical Management of Primary PNET

Surgical Management of PNET Hepatic Metastasis

Liver Directed Therapies in PNET

Liver Transplantation for met PNET

Somatostatin Analogue and Systemic Therapies for Metastatic PNET

Neoadjuvant Approaches to Locally Advanced and met PNET (when surgery may be possible)