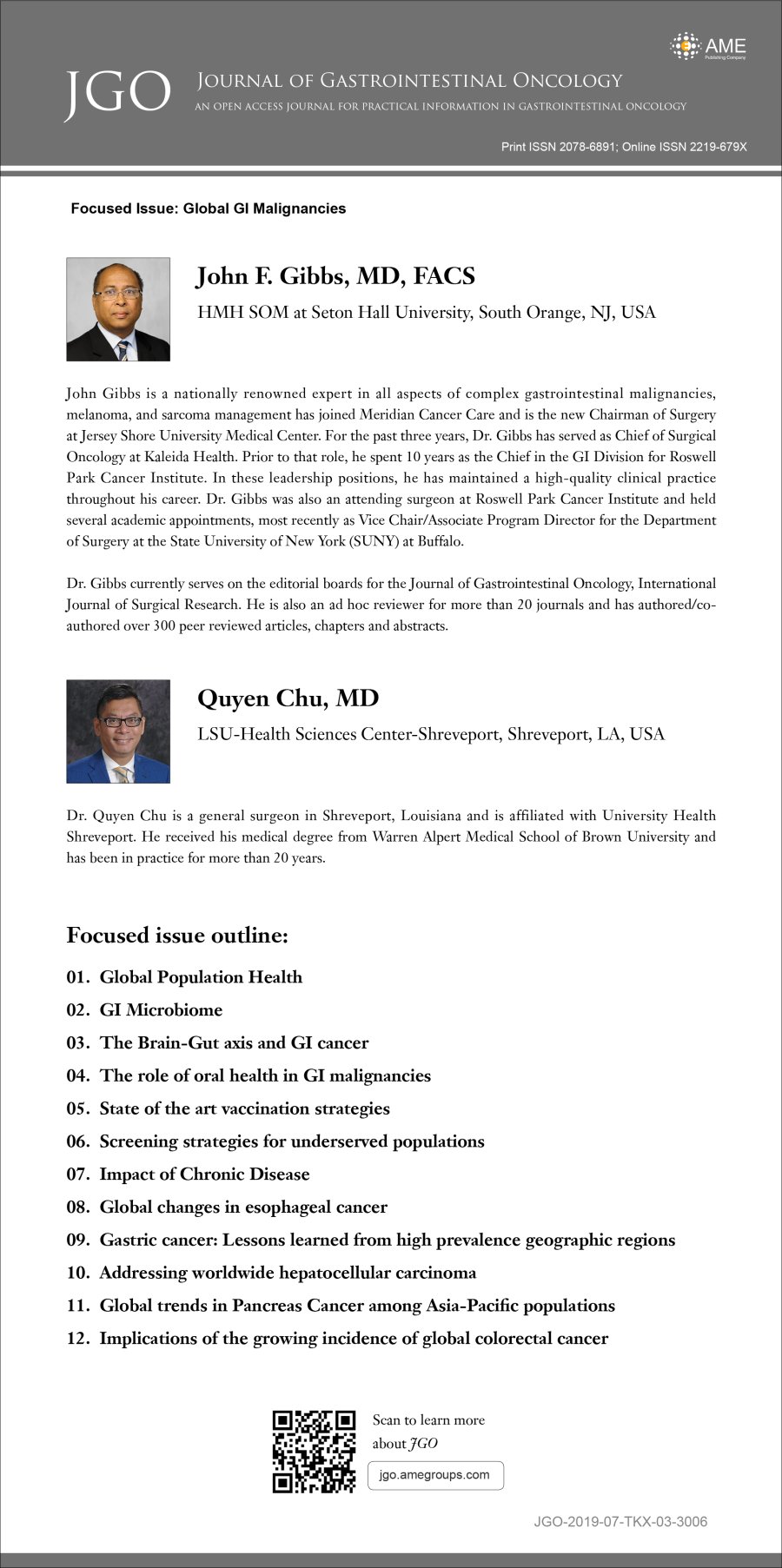 This focused issue on "Global GI Malignancies" is edited by Dr. John F. Gibbs, from HMH SOM at Seton Hall University, South Orange, NJ, USA; and Dr. Quyen Chu, from LSU-Health Sciences Center-Shreveport, Shreveport, LA, USA.
Dr. John Gibbs is a nationally renowned expert in all aspects of complex gastrointestinal malignancies, melanoma, and sarcoma management has joined Meridian Cancer Care and is the new Chairman of Surgery at Jersey Shore University Medical Center. For the past three years, Dr. Gibbs has served as Chief of Surgical Oncology at Kaleida Health. Prior to that role, he spent 10 years as the Chief in the GI Division for Roswell Park Cancer Institute. In these leadership positions, he has maintained a high-quality clinical practice throughout his career. Dr. Gibbs was also an attending surgeon at Roswell Park Cancer Institute and held several academic appointments, most recently as Vice Chair/Associate Program Director for the Department of Surgery at the State University of New York (SUNY) at Buffalo. Dr. Gibbs currently serves on the editorial boards for the Journal of Gastrointestinal Oncology, International Journal of Surgical Research. He is also an ad hoc reviewer for more than 20 journals and has authored/co-authored over 300 peer reviewed articles, chapters and abstracts.
Dr. Quyen Chu is a general surgeon in Shreveport, Louisiana and is affiliated with University Health Shreveport. He received his medical degree from Warren Alpert Medical School of Brown University and has been in practice for more than 20 years.
Focused issue outline:
Global Population Health
GI Microbiome
The Brain-Gut axis and GI cancer
The role of oral health in GI malignancies
State of the art vaccination strategies
Screening strategies for underserved populations
Impact of Chronic Disease
Global changes in esophageal cancer
Gastric cancer: Lessons learned from high prevalence geographic regions
Addressing worldwide hepatocellular carcinoma
Global trends in Pancreas Cancer among Asia-Pacific populations
Implications of the growing incidence of global colorectal cancer